Transfers to/from Ballaison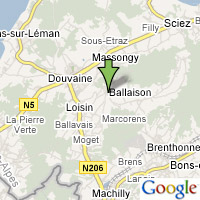 BALLAISON: Leman Valley area – Village height 350 m
Alpes Limousine offers airport transfers to and from Ballaison, Haute Savoie, 74 region, France.
Home to the 'Crepy' white wine of the Haute Savoie region, ideal for fondues and raclette.
A visit to the vine-yards where you can enjoy wine-tasting and other local produce is not to be missed.
Transfers to and from Ballaison are available 24 hours a day, 7 days a week.
Airport transfer times are as follows:
- Geneva Airport – Ballaison : 0h40
- Lyon Airport – Ballaison : 1h45
- Chambery Airport – Ballaison : 1h15
- Grenoble Airport – Ballaison : 2h15
Airport transfers to Ballaison can be booked online at alpeslimousine.com or contact us direct on 0033 4 50731938.
Local Ballaison taxis can also be arranged on request only or by email at info@alpeslimousine.com
V.I.P Service available on the Ballaison route!
Our recommended accomodation and ski services are:


Click here to view other French resorts like Ballaison we operate transfer to and from.
Our most popular FRENCH destinations